Natural Bone Substitute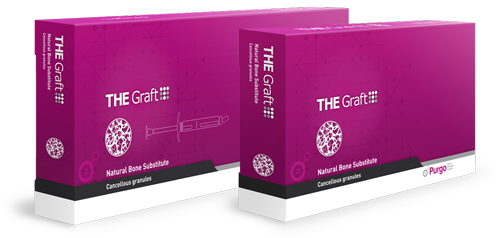 THE Graft™ is a natural, porous bone mineral matrix. It is produced by removal of all organic components from porcine bone. Due to its natural structure the anorganic bone mineral of THE Graft™ likens physical and chemical aspects of mineralized matrix of human bone. When packed into a bone defect, THE Graft™ gradually resorbs and is replaced with bone during the healing process. It is available in cancellous granules packaged in vial. THE Graft™ is sterilized using gamma irradiation.
EU-HP-TGNN-1
THE Graft™ quality and safety have been scientifically demonstrated with in- vitro, in-vivo studies, large case study reports and international randomized clinical research. Systematic review and meta-analysis are conducted on THE Graft™ worldwide.
THE Graft™ has established its fame throughout the world, both scientifically and clinically, becoming the favourite bone regeneration material.
THE Graft™ Biocomptability
« Getting closer to human bone »
The Graft™ is structurally similar to human tissue. It has high possible level of porosity combined with a natural interconnectivity.
Safe & Biocompatible
The combination of porcine origin with the high level of purity enables predictable bone growth without risking an immunogenic reaction. The high biocompatibility of THE Graft™ has been confirmed by an in-vitro cell study. THE Graft™ therefore encourages cell adhesion to the same extent as the established natural DBBM and offers optimal conditions for vital cell growth.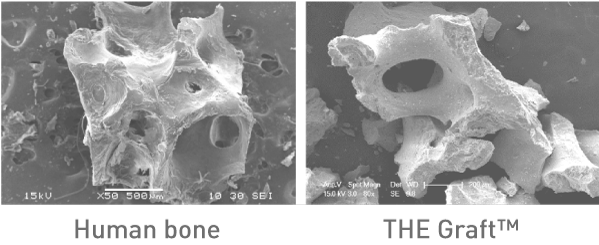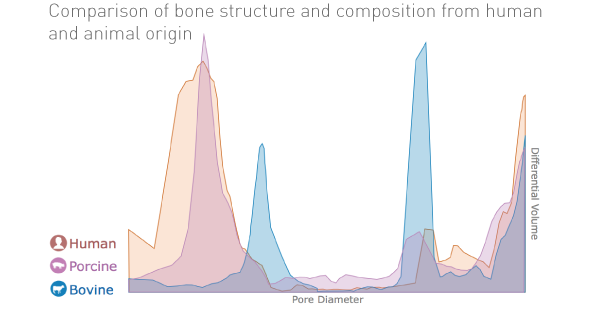 THE Graft™ Purity
Is THE Graft™ safe material ?
Patented proprietary virus inactivation process technology.
Thanks to highly efficient patented manufacturing process, THE Graft™ is free from any organic components that might be potential causes of infection or immune reaction. This unique process preserves most of the physical properties of the native porcine osseous structure of THE Graft™.
A large surface area is a key requirement for graft materials, and not only results in a larger surface region available for osteoblast cells attachment but also facilitates the exchange of nutrients and waste products, it allows greater amounts of blood, proteins, and growth factors to be absorbed onto the scaffold.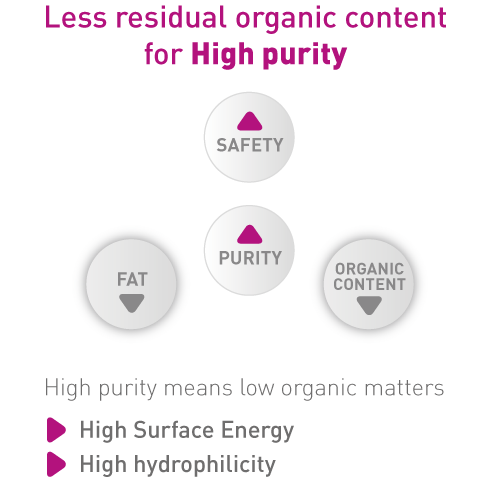 THE Graft™ Hydrophilicity
THE Graft™ consists of a unique inter-connection pore system that ensures an efficient fluid intake and permits the migration of cells. This pore system and high surface energy enhances the osteoconduction process.
The wettability of THE Graft™ turned out to be higher than compared existing xenografts, which suggests that THE Graft™ is relatively hydrophilic and can be easily wet by body fluids after implantation. Not only protein adsorption, but also the attachment, growth, and proliferation of various types of cells, including osteoblasts, have been reported to be significantly affected by the wettability of the material surface.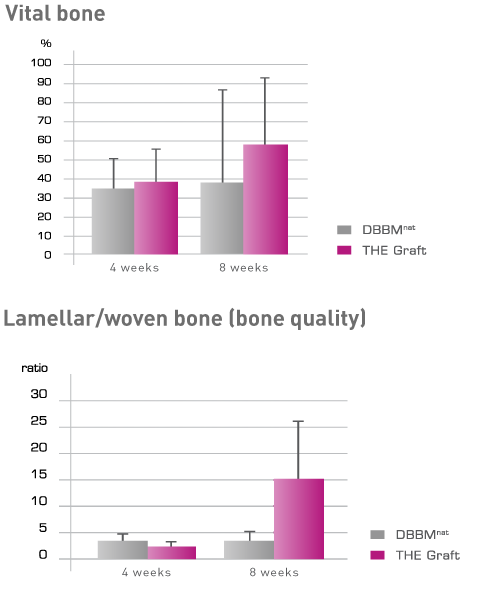 Ref. 1
J Periodontal Implant Sci. 2017 Dec;47(6):388-401
Physicochemical characterization of porcine bone-derived grafting material and comparison with bovine xenografts for dental applications.
Ref. 2
Ceramics International Volume 36, Issue 8, December 2010, Pages 2383-2393
Effect of the calcination temperature on the composition and microstructure of hydroxyapatite derived from human and animal bone, M. Figueiredo, A, Fernando, G. Martins, J. Freitas, F.Judas, H, Figueiredo
Ref. 3
J Biomed Mater Res A. 2014 Oct;102(10):3609-17. doi: 10.1002/jbm.a.35022. Epub 2013 Nov 18.
Osteogenic effect of low-temperature-heated porcine bone particles in a rat calvarial defect model., Go A1, Kim SE, Shim KM, Lee SM, Choi SH, Son JS, Kang SS.
Ref. 4
Clin Implant Dent Relat Res 2018 Jul 27.
Epub 2018 Jul 27.
Alveolar ridge regeneration of damaged extraction sockets using deproteinized porcine versus bovine bone minerals: A randomized clinical trial. 100 patients
Ref. 5
Clin Implant Dent Relat Res.
2017; 19(1):140-150
Randomized Clinical Trial of Maxillary Sinus Grafting using Deproteinized Porcine and Bovine Bone Mineral. 16 Patients
Ref. 6
Journal of Microbiology 52.2 (2016): 140-147.
"Process development of a virally-safe dental xenograft material from porcine bones." The Korean Journal of Microbiology 52.2 (2016): 140-147.