Experter med fokus
på benmaterial
och membran
Klinisk frihet baserad på vetenskap och säkerhet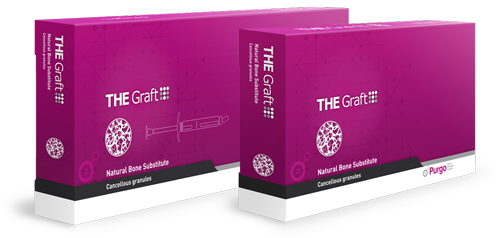 THE Graft™ är en naturlig, porös benmineralsubstans. Den framställs genom att alla organiska beståndsdelar avlägsnas från ben från gris. Tack vare dess naturliga struktur liknar den anorganiska benmineralen i THE Graft™ de fysiska och kemiska aspekterna av mineraliserad matrix från mänsklig benvävnad. När THE Graft™ packas i en bendefekt resorberas det gradvis och ersätts av benvävnad under läkningsprocessen. THE Graft™ finns att tillgå i spongiösa granulat som ligger förpackat i ampuller. THE Graft™ steriliseras med hjälp av gammabestrålning.
ANDRA PRODUKTER
Vi började med en vision.
En vision om att utveckla värdefulla och praktiska produkter för hela familjen. Det är därför vi är här. För att hjälpa människor i alla åldrar att kunna visa upp bländvita, blixtrande leenden på nytt.

Purgo Biologics grundades 1999 och har som mål att bli ett världsledande företag inom tandhälsovård genom att fokusera på säkra biomaterial för mjuk- och benvävnadsregenerering.
Denna spetskompetens inom dentala biomaterial för regenerering av mjuk- och benvävnad baseras på den specialerfarenhet som den enastående FoU-personalen har byggt upp och gör att Purgos Seoul-baserade Research and Development Center står väl rustat att bli världsledande. Personalen på Research and Development Center arbetar med en rad olika kliniska studier, forskningssamarbeten med statliga myndigheter och organ, kliniska specialister och utbildningsinstitutioner i syfte att optimera och vidareutveckla dessa tekniska lösningar.
De lösningar som Purgo tillverkar vinner allt större erkännande globalt och tandläkare i över 30 länder runtom i världen använder regelbundet våra produkter.
Vår tillverkningsanläggning uppfyller flertalet globala kvalitetsstandarder och inspekteras regelbundet av internationella organ. Alla faser i produktionen av våra biologiska lösningar kontrolleras noga, hela vägen från valet av råmaterial till den färdiga produkten.
Huvudkontor Purgo Biologics Inc.
812, 27, Dunchon-daero 457beon-gil, Jungwon-gu, Seongnam-si, Gyeonggi-do, 13219, Korea
Tel.: +82 70 75 49 29 72
overseas@purgobiologics.com
EU Importer Purgo Biologics Europe SAS
1 Square Félix Bloch – Pôle Activ Océan – 85300 Challans – France
Tel: +33 (0)2 28 10 61 02
europe@purgobiologics.com