Si concentra
solo sull'osso
e sulla membrana
Prova la libertà clinica in materia di scienza e sicurezza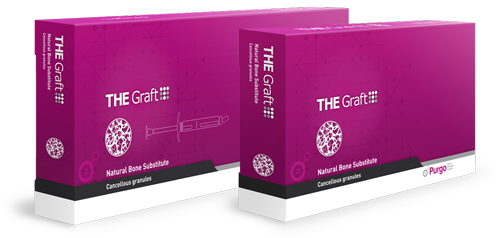 THE Graft™ è un matrice in materiale osseo naturale e poroso, prodotta mediante la totale rimozione delle componenti organiche dell'osso suino. Data la sua struttura naturale, il minerale osseo inorganico di THE Graft™ presenta caratteristiche paragonabili a quelle fisiche e chimiche della matrice mineralizzata dell'osso umano. Una volta posizionato in un difetto osseo, THE Graft™ è gradualmente riassorbito e sostituito dall'osso nel corso del processo di guarigione. È disponibile in granuli spongiosi confezionati in fiale. THE Graft™ è sterilizzato mediante irradiamento gamma.
ALTRI PRODOTTI
Avevamo un desiderio.
Il desiderio di offrire ai nostri cari prodotti pregiati e validi. Ecco perché siamo qui: per far si che il loro sorriso ritorni a splendere.

Fondata nel 1999, Purgo Biologics punta a diventare una delle aziende leader mondiali nel settore della salute orale, specializzandosi nei biomateriali sicuri per la rigenerazione ossea e dei tessuti molli.
Forte dell'esperienza specialistica accumulata dal nostro eccezionale personale di ricerca, il Centro di ricerca e sviluppo Purgo Biologics, con sede a Seoul, si sta sviluppando con l'obbiettivo di diventare il migliore al mondo, in particolare per quanto riguarda le competenze in ambito di biomateriali orali per la rigenerazione ossea e dei tessuti molli. Ogni membro del Centro di ricerca e sviluppo persegue sviluppi tecnici ottimizzati attraverso studi clinici e ricerca cooperativa con personale medico e istituzioni accademiche.
Le soluzioni prodotte da Purgo Biologics stanno conseguendo notorietà in tutto il mondo e sono ampiamente scelte dai dentisti di oltre 30 paesi.
Il nostro sito produttivo è conforme con i maggiori standard qualitativi internazionali e viene regolarmente ispezionato da agenzie internazionali. Ogni fase di produzione delle nostre soluzioni biologiche è sottoposta a controlli, dalla selezione delle materie prime al prodotto finale.
Sede centrale – Purgo Biologics Inc.
812, 27, Dunchon-daero 457beon-gil, Jungwon-gu, Seongnam-si, Gyeonggi-do, 13219, Korea
Tel.: +82 70 75 49 29 72
overseas@purgobiologics.com
EU Importer Purgo Biologics Europe SAS
1 Square Félix Bloch – Pôle Activ Océan – 85300 Challans – France
Tel: +33 (0)2 28 10 61 02
europe@purgobiologics.com