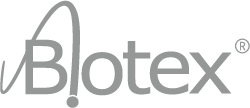 Suture for dental implant surgery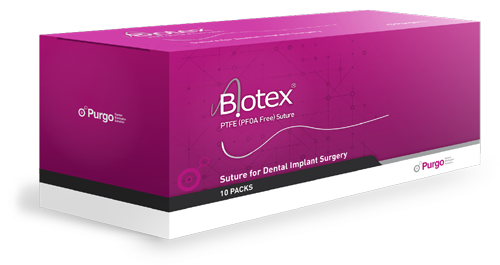 Biotex® Non-Resorbable PTFE Suture is comprised of a single-arm, non-resorbable monofilament suture with a stainless-steel surgical needle connected to the suture. The suture is uncoated, undyed and sterile for single use only, composed of 100% PTFE.
EU-HP-BTNN-0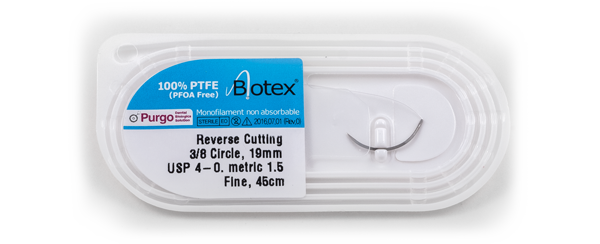 Biotex® Main Features & Benefits
1. Slim reverse cutting needle tip
• Precisions slim cut trianglar needle for small penetration area and smooth suturing.
• Minimize damage to surrounding soft tissue.

2. Strong Attachment
• Advanced technology for strong needle attachment.
• Smooth and firm connection between needle and thread.
• Rapid healing process due to the reduced bleeding from needle insertion.

3. Strong Needle
• 33% higher strengths are required to bend needle in same degree compared to other product.
• No worry to be bent of needle during the suturing with its high rigidity.

Benefits
• Minimal Pain
• Advanced Tissue Healing
• Superior handling
• Easy to tie – Easy to remove
• Nonwicking : elimination of bacterial wicking
• Maintains tensile strength
• PFOA free
Indications
• Bone grafting procedures
• Periodontal surgery
• Guided tissue regeneration
• Ridge augmentation
• Implant surgery
• Soft tissue grafts