Bloc Osseux en Collagène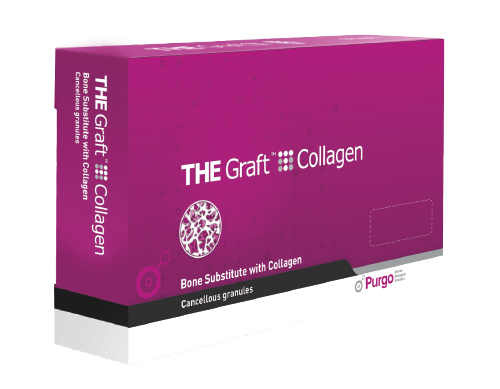 Le bloc THE Graft™ Collagen est composé de matrice minérale osseuse dérivée d'os spongieux et d'atélocollagène provenant de tendon porcin. THE Graft™ Collagen est un substitut osseux destiné à combler, augmenter et/ou reconstruire les défauts parodontaux, buccaux et maxillo-faciaux.
La matrice minérale osseuse THE Graft™ Collagen est similaire aux aspects physiques et chimiques de la matrice minéralisée de l'os humain. Les composants de collagène hydraté ont une certaine viscosité qui facilite le mélange de la matrice ostéo-minérale.
EU-HP-LGNN-1
Grâce à cette caractérisation, THE Graft™ Collagen peut être découpé et/ou moulé selon les différentes formes de défectuosité et peut être fixé dans le site de déficience osseuse.
Au fil du temps, le collagène THE Graft™ est partiellement transformé par les cellules ostéoclastes et ostéoblastes.

Facilement façonnable
Composition
Composé de 90 % de granules THE Graft™ et de 10 % de collagène, THE Graft™ Collagen est plus facile à modeler que les granulés THE Graft™ seuls.
Par conséquent, THE Graft™ Collagen présente de meilleures propriétés de manipulation à celles de THE Graft™, ce qui permet une adaptation plus aisée des matériaux de greffe aux différentes formes de la zone défectueuse.


Osteoconductivité optimale
Tissu osseux
Tout en conservant de meilleures propriétés de manipulation, THE Graft™ Collagen est capable de former un tissu osseux adéquat pour la mise en place de l'implant et de maintenir un niveau de volume naturel ainsi que de grandes propriétés d'adhésion qui conduisent à un temps de traitement minimal.


Des résultats cliniques fiables
Hydrophilicité
Avec une grande hydrophilie, THE Graft™ Collagen stabilise le caillot et aide à la revascularisation du matériau de greffe dans la zone du défaut pour augmenter l'efficacité de la migration cellulaire vers le substrat minéral.
Par conséquent, on peut s'attendre à une formation osseuse rapide, ainsi qu'à un résultat clinique de qualité prévisible.